Posted by Debbie on 8 November 2016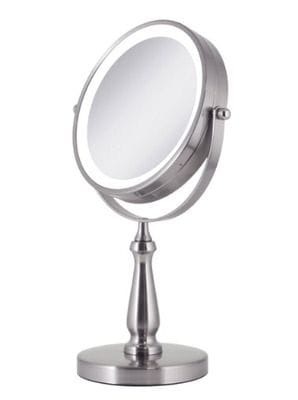 Hi everyone Deb here and as promised in my last post I would give you an update on three new LED lighted mirrors we have added to the range. They are currently on the water and should land in the warehouse at the start of December.
I won't revisit all the details of each model here but will provide link where you can see the mirrors and read all details that help you make a decision.

Having received requests to bring a 15x magnification model for those who have eyelid eyelash issues we think the new LED Lighted 15x spot mirror JKLED15X will be perfect for the job. This 15X LED Lighted Spot Mirror features optical quality glass to ensure a clearer reflection of your true self.
The 15X magnification is ideal for touch-ups, detail, and everyday make-up application.
No matter how dim the environment, the powerfully bright, surround lighted LED evenly illuminates any area of your face. And because of the energy-saving LED technology, it's able to run on batteries for an extensive amount of time.
The versatile and ergonomic design makes it perfect for compact on-the-go travel in your purse or carry-on. Plus, it easily mounts to most any smooth, flat surface via suction cups so you can view yourself and apply make-up completely hands-free. So keep in mind we have two different models the 15x and a 10x version JKLED10X both lighted and color styled.
Some of you may remember we have been selling super stylish JK48 8X vanity mirror for some time now. It's always been popular as a vanity model with its bigger magnification. This magnifying mirror has now become available also as an LED lighted duel sided mirror the JKLED48.
Cordless in operation as it runs on 4 AAA batteries that will last. Means you can walk round the house because it's completely portable. With LED bulbs using 70% less energy than normal bulbs the batteries have an extended life. Size of the mirror is very good with a halo mirror diameter of 16.5 cm. Overall height is 31cm just right to sit on your vanity not adding to the clutter.
It does come in a Satin nickel finish which looks like lightly polished stainless steel. Its finish does not work for everybody however the redeeming quality of Satin Nickel is does not leave finger marks when you move it into position as the chrome models do.
That's it short and sweet for this post. Christmas is coming quickly and as soon a stock arrives it will be crazy as the warehouse boy's pack and send each day. You can pre order any of the magnifying mirrors on the site and you will be then guaranteed to receive your order within a day or so once they land in the warehouse.
Giving a gift like a magnifying mirror will show that you really are thoughtful and caring about the receiver of your special gift.
Remember to keep smiling and just do the best you can each day.
Deb