Posted by Debra on 4 February 2016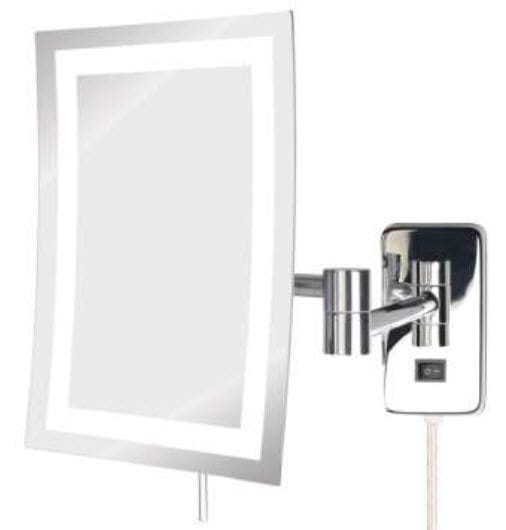 Lighted magnifying mirrors have come a long way over the last three years with the introduction of Travel lighted makeup mirrors, LED mirrors both wall mounted and bathroom vanity lighted magnifying,and shaving models.
I have put some points together here for your consideration when choosing a lighted magnifying mirror.
Lighting in some bathrooms is an issue as the position of the overhead light fittings either throws a shadow over your face or the light bounces of the standard wall mirror found in most bathrooms. Either way it makes it very difficult to do such things as put makeup on, put your contact lenses in or attend to any eyelash issues. With a halo mirror its light reaches every part of your face including under your eyebrows through light coming on the face from every possible angle. If you have a dark bathroom then application of makeup can be difficult, a lighted magnifying mirror can solve this issue.
It may surprise you to know there are so many different lighted mirrors available. For portability or travel the lighted mirrors are a new concept which comes with important considerations such as weight, important when traveling considering how airlines are making it mandatory to travel lightly these days. We believe the travel mirror has to be practical also and fold down in to the neatest design or shape to get all the benefits or a small component in your luggage.
The lightest and most compact of our range is the LEDT01. It is just the right size to fit in your handbag and excellent for everyday touchups and can get by as your travel magnifying mirror at a pinch. Weighing in at just 280 grams and folds down completely flat comes with a lighted fold out arrangement it is also the smallest of the range.
The next and most popular of the lighted magnifying mirror models are the PSC110 power suction mirror weighing in at 300grams. The best thing about this model is that it has a LED light that's very light on batteries and a great size mirror measuring 16.5 cm. Just a perfect size to do everything you want, best of all the easy power suction arrangement a quick twist for on or off the wall makes this a wonderful mirror to use. You can hold it in your hand or wall mount it in seconds. Its does not fold down completely flat as the knuckle on the back of the mirror makes it stand up a little. When I take mine away I wrap it in some soft clothing and place it in a part of my case that's not packed super tight.
Our final travel lighted magnifying mirror is the ULT111 brand new to the range and is very practical with its two fold out mirrors, they look huge in size at 16cm in diameter, LED halo lighted, a small digital clock in the stand and a new finish for us here in My Health and Beauty that being ivory. Best of all it folds down to just 5cm high and weighs in a 500grams. The mirror then stores in a black velvet carry bag.
The bigger magnifying mirrors come in many different formats from LED, Halo lighted, Plug In to direct wired. For those that have not heard of direct wire before it simply means that there is no plug and the mirror has been set up so that your electrician can mount it on the bathroom wall and connect directly to the house wiring. That way you no not have to have a power point and a curly cord as the other models do. I guess it's the minimalist look that some search for these days. It's often found in hotels bathrooms but seems to have made its way of late to new houses that want style and convenience.
Our new LED lighted models have proven popular with good sizes, looks and course the latest style.
The LED88C has been a longtime coming and 8x magnification works perfectly for those who may wear glasses during the day but need to take them off to apply makeup, remove contact lenses or attend to any eyelid or eyebrow issue. Being double side with the LED halo lighting on both sides it's becomes easy to attend the close up work and turn the mirror over for and overall view.
The JRT710 Rectangle LED magnifying mirror looks to be a natural edge style however on looking at the back of the mirror you can soon see how brilliant Jerdon have applied their long term knowhow to this mirror. It is a very solid and built to last magnifying mirror. A wonderful style addition to any bathroom and at 5x magnification just right and very easy to use. The on off switch is situated on the base plate and to have the mirror in any position you desire Jerdon have provided a guiding rod so your hand never needs to touch the mirror.
The mirror uses LED globes rated at super long lasting and use very little power. Jerdon have worked extensively to have the LED color become more sympathetic with your complexion. In previous posts many of the LED mirrors available give off a harsh white light and does not show your complexion in the most natural look. It then becomes very easy to apply makeup that's does not work for you at all. Jerdon's HL7 halo series which uses incandescent lighting has been so popular which will show your complexion in the most natural look comes in direct wired format 3x and 5 magnification and Gold or Chrome finish.
We must not forget the newest addition from Zadro that being the LEDMW45 Cordless LED Halo lighted wall mount mirror powered by batteries. This solves a problem for those having difficulty putting a magnifying mirror in a bathroom that had a power point in the wrong place.
The entry price point for this LED halo lighted mirror is significantly lower than those made for Australian 240volt power. The question on many minds is how long do the batteries last? Well because this mirror uses energy saving LED lighting which consumes 70% less than normal globe mirrors a set of 4 AA batteries will last 2 years. One of the key features of this mirror is the auto off timer which adds convenience and saves your battery power if you walk out and leave the light on. The timer will time out after 5 minutes.
And finally not forgetting our shaving mirrors both lighted and great in the shower for that perfect shave requires the perfect conditions. Dermatologists recommend shaving, cleansing, and exfoliating your skin in the shower. The hot water and steam allows your hair and skin to soften so that the razor can shave more efficiently avoiding that painful tugging, pulling, and razor burn.
The Z'Fogless Adjustable Magnification LED Lighted Mirror Z850 features a patented hydrophobic coating to repel water and keep it completely fog-free no matter how steamy the environment. Plus, its unique adjustable magnification control cycles between 1X and 5X simply by rotating the mirror head. The 1X magnification is great for all-around viewing needs while the 5X magnification is perfect for getting up close and personal when shaving smaller, sensitive areas of your face. No matter how dim the environment, the LED surround light evenly illuminates your face for a fuller, brighter reflection. Built into this brilliant shower mirror is a place to hang your razor, LCD clock so you're not late for work. Best of all it easily mounts to most any smooth surface via suction cups, hanging cord, or double-sided tape which is included in the mounting kit.
The Z'Fogless Water Mirror is the perfect shower accessory to help you achieve the perfect shave, in the shower. A patented built-in reservoir heats the mirror surface, keeping it fogless even in the hottest and steamiest showers. The ingénues way this mirror becomes fogless is, you slide the front part of the mirror off the cradle and fill the reservoir in the back with warm water from the running shower. This is how the mirror stays warm preventing it from fogging up. Zadro have thought of everything, there is no need to empty the reservoir because a very small drainage hole has been provided that allows the water to drain out over a 15 minutes
It's common to not have a light in the ceiling above the shower so can make it a little dark to see. Zadro have built in 4 bright LED lights powered by 3 AA batteries that light up the entire mirror face, making shaving even easier, no matter your lighting situation.
I hope you have enjoyed this reminder of our quality lighted magnifying mirror range and I look forward to bring you news of some exciting new mirrors as they land.
Until next time, keep smiling
Debra