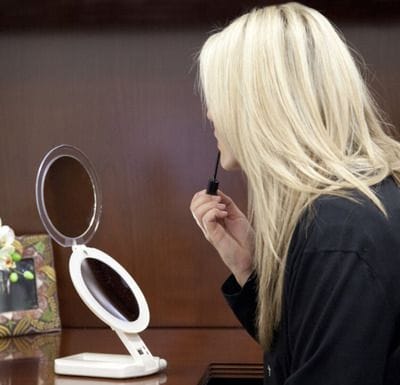 Hi everyone it's Deb here with news of a new addition to our unique growing range of Magnifying mirrors from Zadro.
A compact dual 10x and 1x LED lighted magnifying mirror that folds down so you can put in the draw at work or place in your purse or luggage
Uniquely accessible are the words Zadro uses to describe this magnifying mirror with the model going very well in the US as an office gem or travel mirror.
As you can see by the image it's so handy to pop out onto the desk at work and take a quick check to see all is in order.
This model has the best of both worlds with two mirrors and two different magnifications to choose from; doing your hair and make-up has never been easier. Zadro's LED Lighted Make-Up Mirror features two high quality glass mirrors to ensure a clearer reflection of your true self. One mirror features 10X magnification, which is great for touch-ups, detail, and make-up application. The other mirror has 1X magnification, which is perfect for all-around hairstyling, cosmetics, and everything in between. Mirror dimension is 14cm or 5.5 inches across.
No matter how dim the environment, the surround lighted LED lights are sure to illuminate any area of your face eliminating the shadows so you can apply your makeup perfectly. Using just 4 AA batteries and the energy-saving LED halo lighting technology, it's able to run with the batteries for an extensive amount of time.
The LED Lighted Make-Up Mirror easily opens into an upright standing position for hands-free make-up application. Most surprisingly so you don't have to hunch over or stoop to low, as the mirror opens up to 40cm or 16inches At full height and folds down to a very flat 4cm or 1.5 inches. The sleek, fold-up and swivel head design allows it to collapse into a compact size for travel portability that will fit neatly in your purse, carryon luggage or the glove compartment in the car. It comes in a beautiful translucent Ivory finish that is very easy to keep clean.
Zadro being very clever people have also made this mirror so it can be wall mountable.
Sometimes when we are on the run, time becomes very important to which Zadro have include a Digital clock in the base of the unit that comes complete with an alarm that you can turn easily on or off with the flick of a switch.
This mirror is currently being shipped and we expect will be in stock in 4 weeks, it will appear on the site under travel mirrors category the moment it goes into the warehouse.
We have due in the same shipment the LEDT01 Lighted purse mirror and new stock of the LEDMW45 wall mounted cordless magnifying mirror.
Remember always to work on your life plan, take care and always have a smile on your face the world will be a better place.
Debra