Posted by Debra on 1 November 2013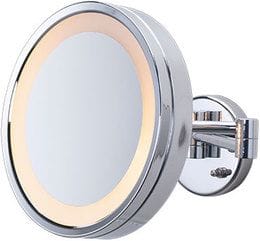 Hi it's Debra again and the Christmas season will be on us before you know it and our magnifying mirrors will be at the top of many peoples list. Considering some of the things we have seen and heard this year I thought this timely warning might help.
Here at the office we have fielded a number of enquiries about magnifying mirrors, magnifying mirrors wall mounted with lights right through to the magnifying makeup mirrors. In the last 12 months there has been an explosion of offerings for magnifying mirrors. Notably there are sites posing as Australian and literally millions of offerings from China.
What the consumer does not know is that any lighted magnifying mirror coming from overseas is made to work on the USA 110 volt system. That means the plug is wrong and the wiring is not up to Australian regulations to carry our 240 volt power. This means when plugged in they will burn out either instantly or slowly melt the wiring inside the mirror leaving bare wire which can result in the user getting a shock. More than twice the voltage /power going into undersized wiring is dangerous.
Ask before you buy – "Is it 240 volt and does it have an Australian plug"? is the best way to protect yourself. Yes you can buy and use a transformer to solve the problem however the cost of the mirror and the transformer out weigh what you can buy locally.
We also know the offerings or listings if you like from eBay are very heavy when you Google the type of mirror you want. Please be very careful - the picture you see is not the mirror 99% of time. When your $6 bargain mirror arrives you may be in for a big surprise. It's very difficult to get any recourse when things go wrong from suppliers located offshore. Those who rang us often said all they were told was "Not Our Fault"
We speak from experience and you would not believe some of the people who rang us asking for advice on what they should they do. They see that we are the Jerdon and Zadro sellers here in Australia and seek recourse from My Health And Beauty. Online sounds great and generally is however Sellers know you are in another country and you just will not get anywhere except a whole lot of noise.
At this point I should advise everybody our magnifying mirrors with lights have all been manufactured for Australia 240 volt and as such have the correct wiring, switches and Australian plugs and backed by a manufacturer's warranty.
I do hope this post is of some help to those of you seek a magnifying mirror or at the very least you are a little wiser.
Until next time don't forget to smile and be grateful for everything you have.
Debra