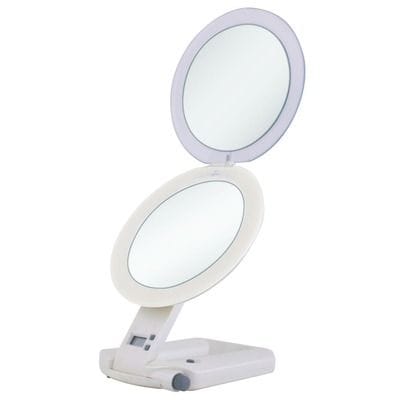 Battery lighted magnifying mirrors are well known in the compact handbag field of mirrors but did you know there are wall mounted, vanity, travel, and spot type battery operated magnifying mirrors.
With the advent of LED globes coming in, each of the mirrors mentioned use LED globes because of the low energy consumption. You know when your batteries are getting low the light gets dim. On average batteries last in these type of magnifying mirrors between 1 and 2 years depending on how much use they have. The portability of these types of magnifying mirrors with Halo Lighting is the main attraction.
I have listed below the models in our range along with a small pic and some details. Hope you enjoy.

The vanity LED lighted duel sided mirror the JKLED48 with 8x magnification is the newest model. Cordless in operation as it runs on 4 AAA batteries that will last.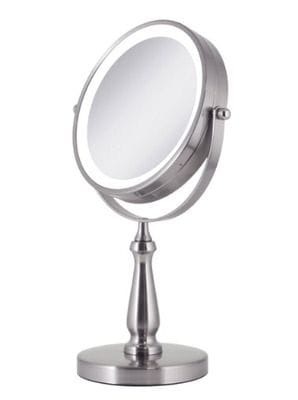 This means you can walk round the house because it's completely portable. With LED bulbs using 70% less energy than normal bulbs the batteries have an extended life.Size of the mirror is very good with a halo mirror diameter of 16.5 cm. Overall height is 31cm just right to sit on your vanity not adding to the clutter. It does come in a Satin nickel finish which looks like lightly polished stainless steel. Its finish does not work for everybody however the redeeming quality of Satin Nickel is it does not leave finger marks when using it.

Our LED Lighted 15x spot mirror JKLED15X will be perfect for the handbag. This 15X LED Lighted Spot Mirror features optical quality glass to ensure a clearer reflection of your true self.
The 15X magnification is ideal for touch-ups, detail, and everyday make-up application. No matter how dim the environment the powerfully bright, surround lighted LED evenly illuminates any area of your face. And because of the energy-saving LED technology it's able to run on batteries for an extensive amount of time. This versatile and ergonomic design makes it perfect for compact on-the-go travel in your purse or carry-on, plus, it easily mounts to most smooth, flat surfaces via suction cups so you can view yourself and apply make-up completely hands-free. So keep in mind we have two different models the 15x and a 10x version JKLED10X both lighted and color styled.
The only handbag compact in our range is the LEDT01. It is just the right size to fit in your handbag and excellent for everyday touchups it is also your travel magnifying mirror at a pinch. Weighing in at just 280 grams and folds down completely flat and comes with a lighted fold out arrangement it is also the smallest of the range. It folds out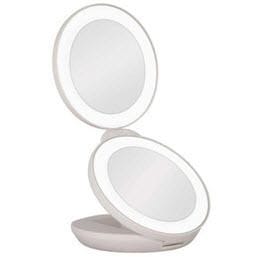 quickly and easily into many positions, has two LED lighted mirrors one magnified mirror and one not magnified but both have a halo light you can turn on and off individually. Whilst most bathrooms in public buildings have reasonable light it's when you need to dash from the car into a meeting and you need to check you're looking your best this magnifying makeup mirror with lights is at its best.
When travelling lighted magnifying mirrors can be a lifesaver when you are away from home. Here at My Health and Beauty we are always on the lookout for a mirror that can be used in any circumstance. The LEDTO1 can be held in the hand or sat on a flat surface while you make those last minute touchups. The generous mirror size of 3 1/2 inches or 9cm makes it a whole lot easier than the traditional compacts. When set in the upright position for maximum usage this travel lighted magnifying mirror stands 11 ½ inches or 29cm high. The duel mirror arrangement have a 10x and a 1x magnification allowing close up work or a quick glance overall.

Need a bigger mirror when you're travelling?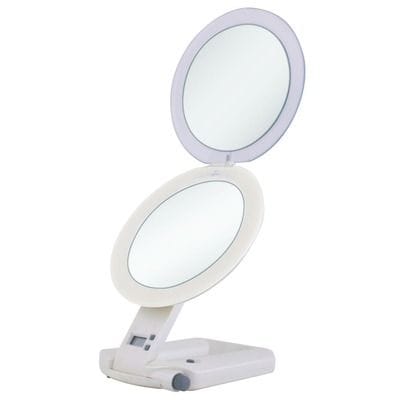 Or do you just want to leave a makeup mirror in the car or office drawer, the ULT111 is fantastic. I love its size with two fold out makeup mirrors, the bottom unit magnified and lighted. This is a really steady unit as I said the size does it for me at 14cm which is just perfect. It does fold down flat however the best part is because the base is nice and sturdy it will extend out 40cm so that makes it an all-round useful makeup mirror with light available here in Australia.

For a fast portable solution I can't go past the LEDPSC110 lighted power suction makeup mirror when travelling for the main reason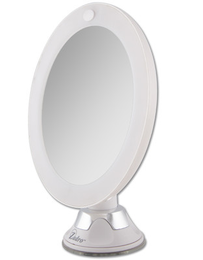 it's so light and so handy to just suction on to a mirror or glass or tiles when you're in some strange hotel with poor lighting and only one mirror. I really hate waiting for my husband who is also in the bathroom and I can't use a mirror. It's just so easy to pull out this lighted makeup magnifying mirror turn the dial and it suctions onto the wall and I have a mirror I can see with and put my makeup on without my glasses. I use it with the light on when it's too dark but my favorite is to suction it to the window or glass door and use it with natural light
.
The final mirror we'll cover today is our Cordless LED Halo lighted wall mount mirror powered by batteries. This solves a problem for those having difficulty putting a magnifying mirror in a bathroom that has a power point in the wrong place.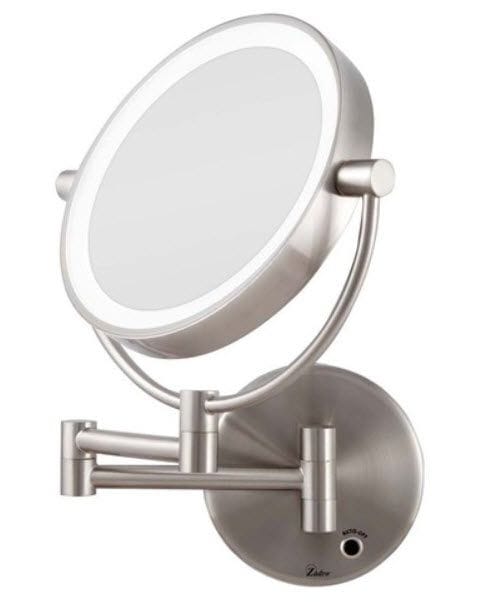 The entry price point for a LED halo lighted mirror is significantly lower than those made for Australian 240volt power. The question on many minds is how long do the batteries last? Well because this mirror uses energy saving LED lighting which consumes 70% less than normal globe mirrors a set of 4 AA batteries will last 2 years. One of the key features of this mirror is the auto off timer which adds convenience and saves your battery power if you walk out and leave the light on. The timer will time out after 5 minutes. This magnifying mirror is double sided with 5x on one side being great for touchups, detail and makeup application while on the side 1x being for perfect for all round hairstyling, cosmetics and anything else in between. If your bathroom is a dim environment the LEDs are powerful enough to illuminate your face and not have a bright light shine in your eyes.

This mirror comes with optical quality glass to ensure a clearer reflection of your face. The mounting will allow the mirror to rotate 360 degrees into any position that work for the user. This mirror has smaller dimensions that will work for many who do not require the bigger lighted models. The actual mirror size is 5.5 inches or 14cm across with the overall measurement including the body of the mirror being 7 inches 17.5 cm wide. The mirror pivots on two arms that will extend out 9.5inches or 24cm from the wall and once finished with will fold neatly flat back against the wall. The mirror comes in satin nickel finish which is like polished stainless steel to look at. The best part about satin nickel finish is it does not show the finger marks like the chrome or gold models do. This is the most requested finish currently in vogue in the US.
This Cordless mirror is the very latest design that is just right for those who take care of how they look when stepping out stylish, practical, high quality the MWLED45.
Well there you have it a quick rundown on our battery operated magnifying mirrors.
Hope you enjoyed that . Its your turn to show the world your beautiful smile.
Debra