Posted by Debra on 17 February 2014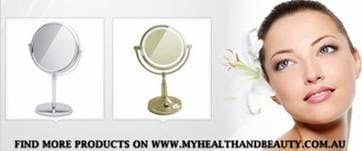 Beauty Mirror or Beauty Mirror with Lights is the first thing many put into Google when searching for a magnifying mirror that is just right for you.
Hi it's Debra with information that will help make your choice easier. The new look My Health and Beauty online store now has a number you can call if you need help with your decision.
It's always very difficult to buy online when you can only make a choice by the picture you see.
Questions like I wear glasses and will 5 time magnifications be enough?, Will the mirror fit inside a cabinet?, I just want to put my mirror on the wall just like the hotels do?, Is the light in the LED mirrors white or can I get yellow LED?, Can I put this mirror in the shower? I can't make the light in my mirror work how do I do that?
Now it's easy -just call the number is on the top of the home page of the shop. Try doing that with an eBay purchase or many of the other companies that masquerade as an Australian company.
Across the Christmas New Year period we received many enquiries as those who bought beauty mirrors with lights have found out they have received a US mirror. Generally they tell us it doesn't work – or can they get a light globe as the other one "blew up". Unfortunately there are many online companies that sell the American version beauty mirrors with lights that are only 110 volt. Added to that it's now become very difficult to buy a transformer that will make the mirror work with 110volt.
It can be very disappointing to have this happen. I have just 3 tips how you can prevent or at least help out if you have inadvertently purchased the wrong beauty mirror.
If you do buy through EBay then make sure you scroll down the left side of the page until you see the Item Location heading under that you must tick Australia Only. EBay have it set on a sneaky default that makes you think it's all Australian when in fact it's mostly USA and Asian ebayers.
Beware of drop shippers like Fishpond you will get mostly overseas product.
If you have received a beauty mirror from overseas and it does not work you should notify PayPal first this will hold the payment up and the supplier has to respond to solve the issue.
If you have received a beauty mirror with lights from overseas through eBay and it does not work be sure to email EBay who are very helpful and will do anything to rid their site of these problem sellers.
Finally for those searching the My Health and Beauty site for a specific beauty mirror that you might have seen previously. Do not worry MHB does not sell what we do not have. Any models that are out of stock are removed from the live site until they come back into stock. If we have new models coming then they will be announced in advance so you can get the best possible beauty mirror that will be fantastic for you.
Remember to keep smiling and have a great week.
Debra