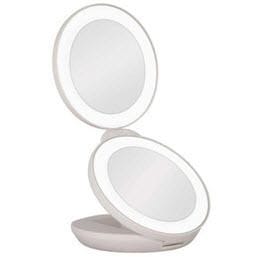 At last the best lighted compact magnifying mirror is back in stock. When we originally started out with these we thought they would only work best for the professional people who travel between appointments and need to look their best before going into the boardroom. It seems there are many who do want to use something better than the tiny compacts you see around they have found the LEDT01 to be the perfect companion.
All compact magnifying mirrors have their own unique uses and the first thing that comes to mind is you really need at least two magnifying makeup mirrors. One that stays in the bathroom and one that can go with you either when you're travelling or just a daily use model in your purse. When out travelling, shopping or racing from meeting to meeting a lighted makeup mirror is indispensable.
This the lightest and most compact of our range is theLEDT01 . It is just the right size to fit in your handbag and excellent for everyday touchups and can get by as your travel magnifying mirror at a pinch. Weighing in at just 280 grams and folds down completely flat and comes with a lighted fold out arrangement it is also the smallest of the range.
Many like something that's bigger than the small compacts available to use and fortunately Zadro has come to the rescue with the LEDT01 lighted makeup mirror. It folds out quickly and easily into many positions, has two LED lighted mirrors one magnified mirror and one not magnified but both have a halo light you can turn on and off individually. Whilst most bathrooms in public buildings have reasonable light it's when you need to dash from the car into a meeting and you need to check you're looking your best this magnifying makeup mirror with lights is at its best.
When travelling lighted magnifying mirrors can be a lifesaver when you are away from home. Here at My Health and Beauty we are always on the lookout for a mirror that can be used in any circumstance. The Zadro lighted compact comes very close.
The LEDTO1 can be held in the hand or sat on a flat surface while you make those last minute touchups. The generous mirror size of 3 1/2 inches or 9cm makes it a whole lot easier than the traditional compacts. When set in the upright position for maximum usage this travel lighted magnifying mirror stands 11 ½ inches or 29cm high.
The duel mirror arrangement have a 10x and a 1x magnification allowing close up work or a quick glance overall. Of course this type of magnifying mirror may not suit everybody as some want a bigger size mirror, less magnification, or don't need the lighting. Take the time to have a look through the rest of the range and you may find something that really is the best for you.
TheUlt110 is very popularas it's just that little bit bigger and folds flat, still has a light and duel mirrors. In the non-lighted range theMC310 and the bigger brother the MC449 also may be better for you.
Hope you enjoyed this update and if you have been waiting for this model then I'm glad I was able to give you the good news.
Until next time Keep Smiling.
Debra :)