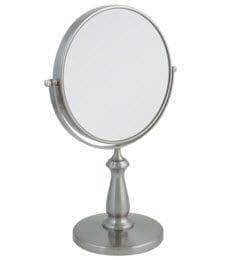 Hello everyone its Debra here with our latest post on what's happening here at My Health and Beauty.
Last week I promised some details on one of our mirrors that is a little different than most that are available. However first I wanted to advise you we have added another mirror to our range and I personally think it's the highest quality mirror we have in the range. It's the JK48 vanity mirror by Zadro with a large 18cm or 7 inch double sided mirror.
Best of all its 8X which has proven to be just that perfect magnification that's not too big or too small to sit on your bathroom vanity.
Check out this excellent magnifying mirror on this link. Also today the Zadro patented ZSP2 mirror cleaning solution was added to the site. The bonus with this product it helps your mirror stay fogless which is often an issue in steamy bathrooms on cold mornings.

Our wall mount magnifying mirror that has a point of difference and well worth considering before purchasing a mirror is the 3030C. This mirror has a movement that no other wall mount mirror has, that being vertical up and down. This type of movement works very well when partners have a height difference one being tall and the other short. Either way no one wants to stoop to use the mirror and the other partner is not fussed at having to stand on something to reach the mirror. The 3030c has the 360 degree double sided mirror rotation and even an arm that extends out from the wall. Having vertical adjustments will save many arguments on how high or location to place the mirror.
Finally some exciting news we are currently building our Pinterest site, as soon as it's ready I'll give you the details.
In the meantime remember to smile and we hope you all have a great week.
Debra