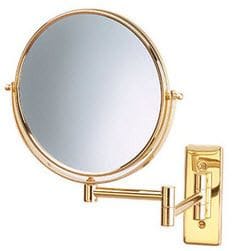 Do you have Gold magnifying mirrors is a question we get asked a little more often these days. It is hard to please everyone as the conversation invariable swings round to find out if different color golds are available with the Rose Gold the most asked for. We guess people are adding a little bling to their bathroom these days and are not so focused the bathroom being all Chrome or all satin nickel or even black that has become trendy these days.

Manufactures don't build many gold mirrors as they are simply not in demand. We have waited up to 12 months at times to get any gold models. Currently, we are carrying 3 different models. Wall mounted Halo Lighted mirror, one non-lighted wall mount mirror, and one vanity model. Our MC229 7 times magnification travel mirror has some gold trim on the stand that supports it.

I have listed the models here with a link to the page if you would like to look further 7506G is our double sided 5 times magnification wall mount model. Our HL75G is the wall mounted magnifying mirror with halo lighting and 5 x magnification. And the vanity model the 7505g magnifying mirror is an adjustable height 5x magnification model. I also add the MC229 which has a nice gold part of the stand it sits on here as well.
These gold magnifying mirrors are all from the high-quality Jerdon family they don't tarnish easily and hold their polished finish very well.

I must say it is very difficult to represent the color of the gold through the images on the site which is why you see the different shades.
I would suggest you be quick as it could be some time before we get or even stock them again.
Well, it is only a short post this time I hope to bring you some exciting news about some Black model mirrors shortly. It's been tough to get quality, hence the delayed introduction.
Really hoping they get here before Christmas.
Remember to keep smiling and make the world a better place.
Debra