Posted by Debra on 18 August 2015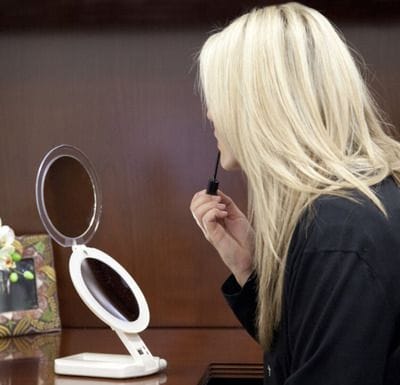 Hi it's Deb again and today I'll help you make the right decision when it comes to selecting a travel mirror. Just lately the team here at My Health and Beauty have been fielding a lot questions about which mirror should they choose. Questions like does it fold down flat? Have a light? What weight is it?
I guess weight is important when traveling considering how airlines are making it mandatory to travel lightly these days. We believe the travel mirror has to be practical also and fold down in to the neatest design or shape to get all the benefits or a small component in your luggage.
The lightest and most compact of our range is the LEDT01 . It is just the right size to fit in your handbag and excellent for everyday touchups and can get by as your travel magnifying mirror at a pinch. Weighing in at just 280 grams and folds down completely flat comes with a lighted fold out arrangement it is also the smallest of the range.
The next and most popular of the lighted magnifying mirror models is the PSC110 power suction mirror weighing in at 300grams. The best thing about this model is that it has a LED light that's very light on batteries and a great size mirror measuring 16.5 cm. Just a perfect size to do everything you want, best of all the easy power suction arrangement a quick twist for on or off the wall makes this a wonderful mirror to use. You can hold it in your hand or wall mount it in seconds. Its does not fold down completely flat as the knuckle on the back of the mirror makes it stand up a little. When I take mine away I wrap it in some soft clothing and place it in a part of my case that's not packed super tight.
The sister model to the lighted power suction mirror is the PSC210. It is square with no light. Being the same weight at 300grams and has the same folding folding knuckle that does not allow it to fold flat. It is extremely popular because of the square shape. My friends say it gives a better look about your image than the round lighted power suction mirror. Being able to put this magnifying mirror up anywhere is a bonus. I find using natural light is fantastic so its easy to sit outside and attend to those annoying little eruptions or blemishes.
The traditional MC229 is a very stylish magnifying mirror to look at with its silver and gold finish on the stand that encloses the mirror. It allows you to sit the mirror on any flat ledge or surface adjust it in any direction being a double side mirror with slightly less magnification at just 7x. This mirror weighs a little more than the power suction models at 400 grams and that's because it's a more solidly built mirror.
The MC449 is a polished stainless steel finish model that has the by far the best multiple position stand, coupled with double sided 14cm diameter crystal clear magnifying mirror that can be adjusted to stand 27cm high this mirror is a very solid model weighing in at 490grams. It folds down to just 5cm flat and stores away in a lovely black velvet bag. Packing away in your suitcase that sometimes gets thrown around should not worry this beauty. I must say having had one of these for a long time I found you should always keep a piece of cardboard between the glass surface and the frame when the mirror is folded down.
Our final travel magnifying mirror the ULT111 is brand new to the range and is very practical with its two fold out mirrors, they look huge in size at 16cm in diameter, LED halo lighted, a small digital clock in the stand and a new finish for us here in My Health and Beauty that being ivory. Best of all it folds down to just 5cm high and weighs in a 500grams. The mirror then stores in a black velvet carry bag.
Well I hope you will get some idea on what travel mirror may choose hopefully this post has given some extra information that works for you.
Thats all for now, please - Smile everyday is a great day.
Deb