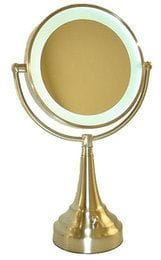 Hello everyone I know we have mentioned this LED magnifying vanity mirror in other articles I thought going a little more in depth may help some make an informed decision. If you don't like wall mounted mirrors and you're looking for a vanity model then this is our best lighted makeup mirror NGLED410. Because of its size, it makes a great statement in anyone's bathroom.
This lighted makeup mirror is special in many ways because of its duel power arrangement.
It can run on batteries or be plugged in and run of mains power and best of all it uses LED globes which consume very little power, and never need replacing with manufacturers quoting globes to last a lifetime.
Why have a mirror that can run on batteries you may ask? If we think about that for a second then you will realize it's now cordless and can be used anywhere in the home. To do this there are 4 "C"size cells in the base of the mirror. Manufacturers quote that with the LED globes this vanity magnifying mirror will use 70% less energy under normal usage and batteries will last up to 2 years which is not too hard on the pocket. If you want to run the unit off mains power then an external power adapter is provided.
The LED halo lighting on the mirror is very crisp bright and clean when using for makeup applications like adding or tinting eye lashes a breeze. The mirror has the halo lighting effect on both sides. Halo lighting refers to the outer rim of the glass that light filters evenly through when switched on giving a lovely clean even glow on the face. The mirror pivots from a 10x magnification on one side and on the reverse side to the normal 1x view. This means you use the 10x for close up work and 1x to check your hair and makeup overall before you leave.
For those who recoil in horror the possibility of using a lighted makeup mirror with 10x magnification, be assured it's the fastest growing magnification in demand. Should you have not seen a 10x magnified lighted makeup mirror before, it does take a little getting used to.
Your face on average needs to be around 10cm or 4inches in the old language away from the mirror. Being too close or too far away then the image will appear distorted. From experience we can tell you once someone gets used to using a10x mirror poor eyesight or not they will never go back to anything else. Incidentally we have heard that these mirrors do go missing fortunately most of them turn up in the teenage daughter's room!
And just finally the NGLED410 magnified lighted makeup mirror has an overall height of 46cm with a base 14cm across making the mirror very stable and not that easy to knock over. It really looks the goods in terms of the build quality and the potential value or benefits it can offer your customers. If the customer has not experienced or seen a satin nickel finish before, then the best way to describe it is as a slightly polished stainless steel look with the best part being it does not show finger marks like the chrome or gold mirrors do.
The packaging on the NGLED410 lighted makeup mirror is excellent but unfortunately will not fit in a 5kg express bag and so this mirror will always needed to freight by our shipping company Star track Express. It's best if you can give a commercial address so somebody can sign for the mirror. Star Track will not leave goods if nobody home.
Until Next Time Smile And Enjoy Everyday
Debra