Posted by Debra on 5 November 2015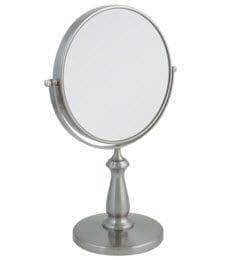 Well now Christmas is coming at a very fast pace this year and makeup mirrors are in every woman's sights. Hi it's Deb from My Health and Beauty and today I am talking about makeup mirrors.
If you look at the My Health and Beauty range it is easy to see we have the best available out there. If it needs to go in your purse, packed in a suitcase, free standing on the bath room vanity or suctioned to a mirror and even screwed to the wall lights or no lights Chrome, clear or gold finish then look no further.
I see a lot of the online sites today and most are cheeky offerings meaning some buy from us at wholesale and rebrand it with their own name and sell at a more expensive price. I really do urge you to do your homework well when it comes to selecting a brand and checking the pricing before you make that purchase. Coupled with the US sites hiding the freight cost to get product into Australia, eBay with their junk offerings, and the Chinese product with no electrical certificates all working hard to part you with your hard earned money. Be careful this Christmas.
The range in our store is second to none; if you are having difficulty making a decision give our customer service people a call (the number is at the top of the page) and they can help you narrow down on what will be the best for you. If looking for a magnifying makeup mirror to travel with then you can talk it over to see if you want a travel makeup mirror that is free standing and strong or find out is it better than a power suction and do I need a light ?
Talking it over with customer service if you are not sure a 10x magnifying makeup mirror is to powerful.
Having raised that point a 10x mirror like new glasses at the optometrist takes a couple of days for your eyes to adjust. It also takes time for you to get used to the fact your face is close to the mirror.
Makeup mirrors come in all shapes and sizes and I can say it's difficult to have just the one makeup mirror to do the full range of jobs you would like. For this reason I recommend having three models and I have chosen a budget range and a high end range for you to consider.
To carry around in your bag daily the MC310 is perfect in size, portability and weight, for travelling I recommend the PSC210 which can be placed anywhere, perfect size and perfect weight at 220 grams and finally for home in the bathroom the JP120 is a 10x model has a large 20.5cm diameter double sided mirror.
For a higher end look the LEDT01 fits your bag perfectly and comes with a halo led light on both mirrors. To travel you have a choice of two the UL111 has duel mirrors one halo lighted the other not can be best set up in any location including hanging on the wall. It weights 500grams and is a substantial magnifying makeup mirror. If you want better portability and light then the PSC110 power suction LED halo lighted mirror at 220 grams in weight should be perfect. Finally it's hard to go past either the LED88C a double sided LED halo lighted mirror are for small magnification at 5x the JRT710 Rectangle is a classy middle and has been the pick by all the designers this year because of it fresh new style not yet copied by others.
I know it all sounds like upsell I just don't feel there is a better way to handle the three different requirements us ladies have when we need a mirror.
Hopefully you will use the advice wisely in the top half of this post as we want you all to have a wonderful happy Christmas with nothing but happiness and excitement, sharing and caring.
I hope this information on makeup mirrors is of some use today the only thing
remaing for you to do is smile and have a great day
Deb