Posted by Debbie on 18 August 2016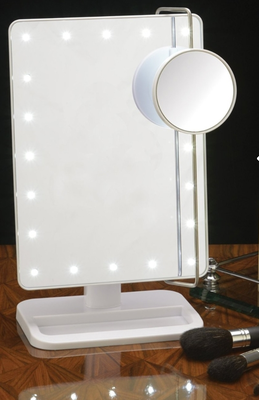 Hi everyone Deb here with an update and a review of our newest product from Jerdon.
It's great to have a new model onboard although it will not be available for another 4 weeks. It will bring a different type of magnifying mirror into consideration. This model has a large lighted non magnified surface to use and then for the delicate eye work the adjustable 10x spot mirror comes into play.

New for Australia from Jerdon the simple elegantly styled JS811W is a mirror unlike anything we have in our current lineup. The two most notable things about this mirror when you see it for the first time is the size and the movable spot mirror. The actual mirror dimensions are 20cm wide by 27cm high with spot mirror being 7.5cm in diameter. This size makes it a breeze to use and easy to walk around the house for a good natural light location. LED lighted and using just 4 AA batteries make this the perfect mirror to use almost anywhere. Easy to travel with by folding it down and packs nicely into your suitcase. Sometimes the natural light is the best for using the mirror; so on those bright days natural light and when inside or it's darker then use the LED Lights. Whilst the big mirror is not magnified but importantly it is lighted with the size being just right.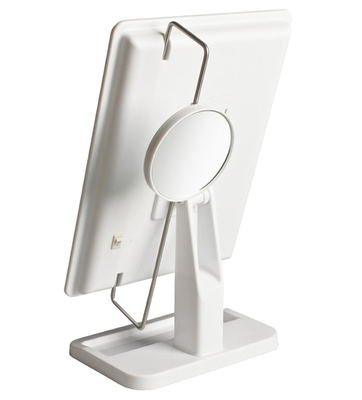 Adjust the spot mirror with 10x magnification now allows you to get your eye makeup just right. The spot mirror can move up and down and side to side or when you're finished with it can fold around the back out of the way.

You will also notice the embedded LED globes in the mirror distribute the light evenly to give a bright clean reflection. The on off switch is located on the back of the mirror to give the front that clean look. The LED globes are cool to touch so there are no hot surfaces to worry about. You may already know that LED lights use very little power and so that means gentle usage on the batteries that will last a long time.
The main body of the mirror will also tilt on the stand plus Jerdon have provided a handy tray for your tweezers or make brush and products to sit in.
Of course we know that Jerdon Style has earned a reputation for excellence in the beauty industry with its broad range of travel, wall and vanity style cosmetic mirrors. Jerdon has been a leading provider to the finest hotels, resorts, cruise ships and spas worldwide and continues to evolve with and shape how stylists envision beauty and fashion.

Just a quick stock update we are currently missing some product lines from the site as you know when we are out of stock we prefer to remove from view to help you avoid disappointment by paying and then finding no stock available.
We expect to receive more stock over the coming weeks and they will reappear on the site so keep your eyes open. The direct wired models will be the first back in stock the HL8 and HL85 and we expect the LED110 out portable 10x magnification lighted power suction soon after. As soon as they get close they will appear back in the shop.
Well until next time stay well and keep intouch as we find and bring new and different magnifing mirrors for you to consider. Remember to brighten someones day with your best smile. Deb