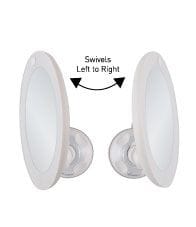 Hello its Debra again with some wonderful news on a brand new model power suction LED lighted magnifying travel mirror. Following on from our very successful PSC210 Square power suction mirror Zadro have introduced this month a round battery powered LED Halo Lighted power suction magnifying mirror.
If you have to attend late meetings or going to the gym and then on to work or perhaps you are going away for the weekend then this is the perfect magnifying mirror for you. Keep it in the car or in your travel bag but always have it with you.
The LEDPSC110 lighted power suction 10x magnifying mirror features a large 16.5cm high quality optical mirror with 10X magnification, perfect for everyday cosmetic touch ups. With its custom positioning swivel head and powerful suction cup, getting a perfectly secure viewing angle is a breeze.
Featuring a bright LED light, dim environments are no longer an issue. The eco-friendly LED bulbs never need replacing and consume 70% less energy than regular bulbs so that your 3 AAA batteries will last for 1 - 2 years. There is a convenient push button On/Off switch for you to choose if you want to use the light or not.
Oh so wonderful to take away with you on holidays even to the gym if you need to go to an appointment straight after your workout. Bad lighting is no longer an issue. Just press it onto the mirror or any smooth surface and adjust to any of those versatile or viewable angles you need. With ease you can apply makeup, attend touch-ups or even pop in your contact lenses, quick check of your teeth, and the lippy and you're ready to go.
To remove the mirror from the wall just a small twist on the white bracket and the mirror is already to fold away for next time. Possible this is the best portable LED lighted mirror we have ever seen and coming from Zadro you know it's a quality product.
If you are worried about using a 10x mirror then don't let it bother you. Once you have used a mirror with magnification like this you will easily be able to manage those details that bother you and get that perfection you desire and never go back.
Finished a clean white acrylic on the backside and mirror mount this beautiful LED lighted magnifying mirror will also be an ideal gift for family and friends. This mirror is now in stock.
I'm really excited with more new models and styles come to us very soon. I will update you the minute I have the details.
Until next time remember to always have a smile on your face - you feel good and you will make others happy.
Debra