Posted by Debra on 30 November 2017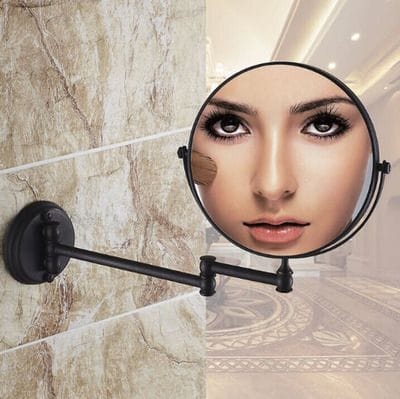 Hi everyone well Christmas is coming fast with our new Matt Black 5x wall-mount magnifying mirror arriving in a nick of time. This is a really nice model and will look wonderful in your trendy new bathroom as Black is the finish these days.

With the addition of a black finish, it now means here at My Health and Beauty we can offer this 5x wall mount mirror in 4 different finishes Chrome, Gold, Satin Nickel and Matt Black. Just a side note here believe it or not we have had interior designers ask if we could get mirrors done with a RED finish that's just going a little too far.
It is fairly standard in all the dimensions that are 20cm in diameter, however, the extension is now set at 30cm still more than ample.

The round base that mounts to the wall gives it a solid base and durability in its pivot actions. This mirror itself can be positioned from side to side 180 degrees, is double sided and by turning the mirror you can have either 5x magnification for close up attention or 1x to see that all is in order before you walk out the door.
As always I like to give you the space requirement for the magnifying mirror so you can plan the best place to put it. These dimensions can be used should you wish to place the mirror inside a cabinet which has become more popular these days. This mirror will fold back flat against the wall so it's neat and tidy the dimensions are as follows with the unit folded back into the smallest possible configuration 32cm high x 30cm wide and 4cm deep.

Mounting this magnifying mirror on the wall is the easiest of all with two screws provided, they should be screwed directly into timber located behind the plaster or if you have a tiled surface then drill the holes and put plastic plugs in then screw your screws into the plugs.

This is the most expensive mirror to have made and with the new packaging inside a foam box with an outer cardboard cover this mirror needs to be sent out in a 5KG express bag because of the external box dimensions. It's a little more expensive for that reason however we want you to receive your mirror in good order. The thinner boxes with an inner cardboard packaging do not travel well in the mail.

A normal mounting in a bathroom will see your mirror last for a long time with the only action you need to do is keep your mirror nice and clean which can be done with a soft rag.

Just a quick mention before I go. We often get asked what magnification do you suggest? This is a tough one not knowing each person's circumstance. As a general rule if you wear glasses then you will need the higher magnifications from 7x upwards. The middle of the road magnification most common is the 5x so if you are not sure we would start here. Keep in mind a magnification mirror is like a new pair of glasses it will take a couple of use for your eyes to adjust.

Please understand with Christmas coming fast delivery of your mirror will sometimes be slower than you expect. We do pack and send same day as purchase however if Australia Post is backlogged or our road freight service is flat out it will simply take a little longer. By all means, if you have concerns feel free to call or email.

Just one more thing to mention and that is, do not judge the colour of any finish of the mirrors in the images. Gold is really Gold Colour and Matt Black is really Matt black despite what you see in the images. Photographing mirrors is very hard because all surfaces pick up the different light reflections in the room.
We are waiting patiently for our container to land with new stock lines, I will inform you about them as soon as I can get my hands on them.
Have fun shopping for Christmas - keep that smile going and I; ll be in touch soon.
Debra.