Posted by Debra on 28 November 2013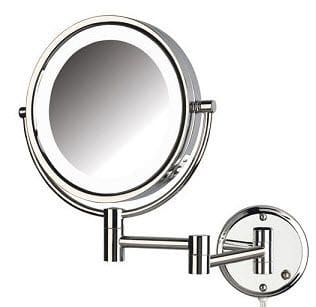 Hi it's Deb and I just wanted to say -
Merry Christmas Everyone from us all here at My Health and Beauty. The team here have been working very hard looking for mirrors that are different from the average offerings you see online these days. This month we are excited to tell you about our latest new magnifying mirror with light. The model has been named LED88C.
LED lighted mirrors are very hard to get right in terms of the type and colour of light. Normal LED lighted magnifying mirrors give a very hard white light or blue colouration which leads you to over compensate when apply makeup. End result being you can get some strange looks when out shopping.
Jerdon has been working very hard on this mirror to get it right and in their words "it's been a long hard effort and we now have it exactly the way it should be."

The My Health and Beauty team have flown across 20 of these magnifying mirrors ahead of the container so they will now be in stock Dec 1 This will be a first in Australia for a wall mounted lighted magnifying mirror with larger than normal magnification. 8 times magnification sounds a lot however its perfect if you wear glasses every day and you need to take them off to apply cosmetics attend your lashes or hair.
LED halo lighted on both sides makes it a very practical mirror in the same way the HL7 and HL8 lighted magnifying mirrors except the LED88C is a slimmer design. This will very much suit those that are looking to mount their magnifying mirror inside a cabinet.
This model is made for Australia electrical regulations and comes with a fully approved Australian plug. No need to worry about those dodgy online offers that actually sell American 110 volt mirrors with a funny plug.

This LED halo lighted wall mounted magnifying mirror is the latest design and comes in a huge crystal clear 21.5cm (8 ½ inches) diameter with dual-sided, optical quality glass to ensure a clearer reflection of your true self. Duel sided magnifying mirror meaning with 8x magnification on one side and the other standard 1x. It means you can see your whole face without having to move from side to side as normal with small magnifying mirrors and the bonus is it throws no shadows over your face.
Use it with or without the light turned on you will still get a beautiful result. Being a wall mounted lighted bathroom mirror it can be tilted, swivelled 360degrees and will extended 34cm (13 1/2 inches) out from the wall, and when you're finished or fold it back on the wall out of the way or fold back inside your cabinet.

This high quality beautiful lighted magnifying mirror comes with in an easy clean chrome finish and a mounting kit. Best of all the LED energy saving technology globes are super long lasting and use very little power so no more have you got a spare globe worries.

Thankyou Thankyou Thankyou to all our customers who have supported us this year
We wish you all a Merry Christmas and a Happy 2014.
Debra