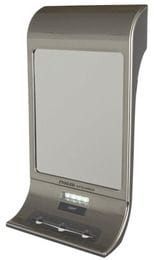 Hi everyone it's been a little too long since my last update, magnifying mirrors, led lighted mirrors and makeup and cosmetics mirrors we have seen so many new models and ideas since my last update. Our next shipment has two brand new to Australia LED wall mounted magnifying mirrors on board. When it gets a little closer I will give you a full update.
For today I've chosen to tell you about a fogless mirror for the men in our lives. Use it in the shower in complete safety.
The latest model and design for a fogless mirror has come from Zadro and uses an ingenious idea using water at the same temperature as the shower to stay fogless. This gives a perfect fogless mirror to use in the shower. Without a doubt this is a man's mirror and perfect if you are one who likes to shave in the shower. It's not easy to get a perfect shave but many don't know that the only way to get that perfect shave is to shave in the shower!
Dermatologists all over the world recommend shaving, cleansing, and exfoliating skin in the shower to receive the best results. The heat and humidity from a hot shower opens pores and soften hair follicles. This allows razors to more easily and closely shave away the hair, while avoiding painful tugging, pulling, and razor burn – well assuming you're not using a blunt razor!.
The Z'Fogless™ Water Mirror is the perfect shower accessory to help you achieve the perfect shave, in the shower. A patented built-in reservoir heats the mirror surface, keeping it fogless even in the hottest and steamiest showers. The ingénues way this mirror becomes fogless is, you slide the front part of the mirror off the cradle and fill the reservoir in the back with warm water from the running shower. This is how the mirror stays warm preventing it from fogging up. Zadro have thought of everything, there is no need to empty the reservoir because a very small drainage hole has been provided that allows the water to drain out over a 15 minutes
It's common to not have a light in the ceiling above the shower so can make it a little dark to see. Zadro have built in 4 bright LED lights powered by 3 AA batteries that light up the entire mirror face, making shaving even easier, no matter your lighting situation.
If you do not like to use a magnifying mirror then this is the perfect tough model to use. There are no worries about cutting yourself if the mirror gets knocked down and falls to the floor it has been made to be unbreakable. It will not rust unlike the chrome or gold versions that people put in the shower cubicle.
A generous 15.5cm high by 13cm wide actual mirror surface gives plenty of size for you to see how well your shave is going, to attaché this unit to your shower Zadro have provided a handy mounting kit consisting of double sided tape and 3 suction cups and a small tube of silicone.
Well I hope that good information for your man and I can't wait to introduce you to our new models coming in June.
Remember to smile and have a great week.
Debra