Posted by Debra on 5 February 2013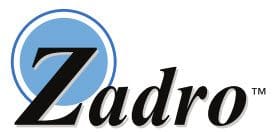 Hi everyone its Debra again after a long break. We hope you had a great Christmas and New Year break. During the year we received many enquiries do we carry the Zadro range of products and I'm pleased to say we have been carrying this range since inception. Today I have added the Zadro logo to the blog as a way of letting you know and making it a little more obvious that we carry many of their product lines from magnifying mirrors to UV disinfection sanitizing lines.
With the next shipment due in March My Health and Beauty plans to add even more lines .One of the new lines available will be a new shaving mirror for use inside the shower the stainless steel ZW20SS break resistant mirror The mirror has a patented built-in reservoir which heats the mirror surface, keeping it fogless even in the hottest and steamiest showers.
Dermatologists all over the world recommend shaving, cleansing, and exfoliating skin in the shower to receive the best results. The heat and humidity from a hot shower opens pores and soften hair follicles. This allows razors to more easily and closely shave away the hair, while avoiding painful tugging, pulling, and razor burn. This mirror will already compliment the Zadro Z850 adjustable 1x to 5x magnifying mirror on the site.
We have also added the new Ultra Bright LED bathroom vanity magnifying mirror the LEDVPR410. This will expand on the popular NGLED410 also from Zadro found on the site. This bathroom vanity magnifying mirror lights up with energy-saving, super bright LED bulbs that illuminate your entire face, allowing you to see the finest details in even the dimmest lighting!
We all carry a compact mirror around in the handbag to ensure we look our best; however it's very annoying at night or even early evening where you may not get the opportunity to use a light.The next shipment will also carry the LEDT01 a lighted travel mirror that offers a compact design with the functionality of two application mirrors that can be set in position and you can use the both at the same time.
No hands needed just set in position turn the light on and everything becomes very easy especially when you're on the run. It features two LED lighted magnifying mirrors that collapse into a sleek and compact size ready to put back in your bag.

Zadro design style and patent many of their products so you know the quality just has to be there. We've not seen any other mirror range that has the affordable style of the Zadro range.
Have a look see what you think you won't be disappointed.
Until next time smile and have great week.
Debra